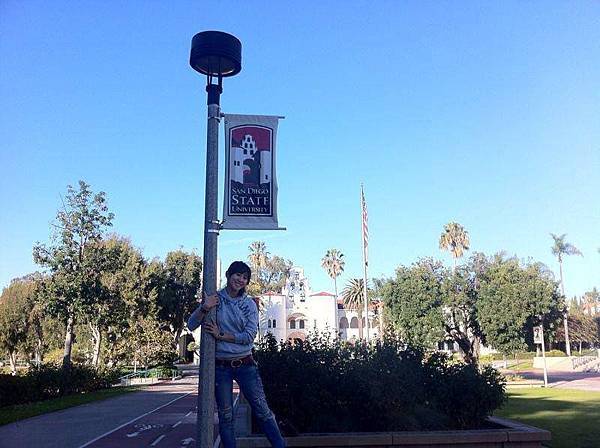 每到一個城市,我都會想要去看看這裡的大學,因為我覺得學校可以看出這個地方的文化,傳統,所以我很喜歡參觀學校,而我門去的時候,正逢聖誕假期,學校空的應該只剩下螞蟻吧。跟著我的英國朋友,在大大的小園中,分享英國的教育,台灣的教育,分享英國跟台灣不同的地方。真的是非常的過癮。喜歡徜徉在這種很大的校園,因為很寬廣,心也跟著寬廣起來。
這個學校很多地方都很適合拍婚紗,每個景點都很美。我覺得很多人會很在意拍照的燈光,技巧,但是我一直覺得,照片迷人的地方是那個人的表情。如果這個照片可以讓人感動,就是好照片。我不是一個很會照相的人,但是我會在每張照片中,顯示出我對這個地方的喜歡,不一定要有多高的技術,我想笑容就是我最真的工具。

When I visit a city, I really love to see their university. For me, school can show this city's culture, tradition, so I really into visit school in different cities. When I visit SDSU during the christmas time, its so empty only ants. I travel with my England friend, and we discuss so many aspects from Taiwan and England. Its very enjoyable to share so many ideas in this pretty campus. I really enjoy this nice campus, because it makes my mind spread as well.
This place is really good for wedding shooting, because every spot is awesome. A lot of people care too many about light and skills to take a nice picture, but I think people's emotion makes the picture fascinating. If the picture can be touched, its a good one. I am not good at shoot, but I will try my best in every picture. I believe smile is my perfect skill in the picture without any professional shooting.