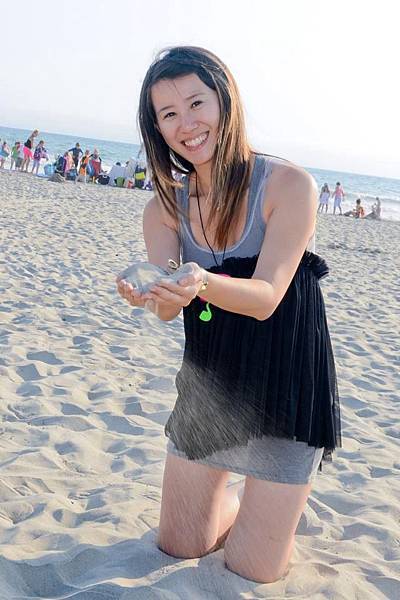 這個海灘旁邊有一個很漂亮的hotel,所以很多人會因為這個hotel而順倒過來這個海灘,而我喜歡這裡的沙子,因為這裡的沙子非常的細,就像人家說"會從指縫中溜下的沙"一般,當你把它捧在手中,它就會像漏斗一樣,一直的往下漏。
很多人會拿它來比喻為愛情,一直想抓住很多,但他你不注意時,他就會一滴一滴的流失。我記得我朋友跟我說過,當你遇到那個會幫你接住留下沙子的男子,一定要好好把握,因為他願意把你不好跟好的那一面都留住。在聖誕節的晚上,希望大家都開心,聖誕快樂,幸福滿滿。

The beach is really good because it has an awesome hotel nearby. A lot of people are visiting this beach for the hotel. I really love the sand here where have a soft sand here. There is a saying" Sand will leave out the hands" when you try to grab tight. The sand will leave out your hands just as a funnel.
The sand just as our love, if you want to grab more you will lose more. However, my friend told me that if you meet a man who is willing to hold the sand for you, then I can't miss this guy. He is willing to accept all my bad and good, and I believe he must be love me so much. During Christmas Eve, I hope everyone enjoy the night. Hope you all Merry Christmas and happiness all the time.